About The Family
Ray and Tammy Oostdyk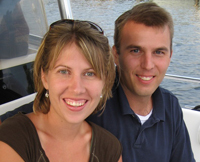 Ray was born in New Jersey, then later his family moved to Roanoke, Virginia. After high school, Ray pursued training to be an airline pilot until God changed his heart and gave him a burden for missions. To read more about Ray's testimony, click here.
Tammy grew up in the South American rainforest. She went to college at Moody Bible Institute, where she met Ray. To read more about Tammy's testimony, click here.
Matthew Oostdyk

Mathew is 6 years old and just finished kindergarten. He is so social and makes friends everywhere he goes. He has lost a lot of teeth in the past few months and gets a lot of comments about his new "big teeth." He feels so grown-up
Mathew's favorite things include: playing chess with Daddy, watching science videos from the library, helping Mommy bake cookies, and wrestling with his brother.
Micah Oostdyk

Micah is 4 years old and is so adventurous! We recently went to a water park and he wanted to go down the biggest tunnel slide -over and over(Something not even his big brother would do!).
Micah loves bugs! Ray's aunt gave him a "bug catcher" and he spends hours in the backyard, catching catching lizards, baby frogs, and spiders!